For more information contact:
Dr. Mohamed Esa
Department of Foreign Languages
McDaniel College
Westminster, MD 21157
Tel. (410)857-2462
Fax: (410)386-4629
Mail: mesa@mcdaniel.edu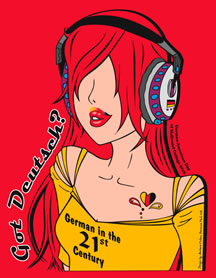 The Winner of the 2010 T-Shirt design Contest is Barbara Fisher from Severna Park HS. Her teacher is Mrs. Elke Rogers. Click on image to enlarge. Click here to see the designs of the winners for 2nd and 3rd places.
Herzlich Willkommen zum 17. Deutsch-Amerikanischen Tag am McDaniel College. Das Thema dieses Jahres lautet: "Deutsch rocks!" Wir werden natürlich auch einige Workshops zu verschiedenen Aspekten der Kultur und Geschichte der deutschsprachigen Länder. Der Höhepunkt des Tages wird allerdings ein Konzert von
, eine junge und dynamische Rockband aus Deutschland (Clenze in Niedersachsen). Bitte hier anklicken, um das Video zum Lied "Mein Herz bleibt hier" der Band zu sehen: http://www.madsenmusik.de/videos/video/235807/collection/233/mein-herz-bleibt-hier/ Hier ist ein anderes Videovom Lied "Good bye Logik" auf Youtube




Film on GAD 2007 on Channel 11 News: October 16th, 2007