Welcome to my EXIT PORTFOLIO for McDaniel College's School Library Media Department. This portfolio is organized according to the four American Association of School Libraries (AASL) Standards and the thirteen related objectives.
As you go through this portfolio, please look for evidence of my:
instructional strategies, especially those adapted for diverse learners
reflection on practice
integration of standards
personal growth.
The best place to begin is the Introduction. There you will find:
a general overview of this portfolio

my mission and vision for school library media centers.
Then navigate through the standards and their objectives by exploring the table of contents.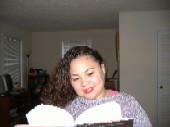 Please feel free to email me about anything concerning this portfolio: Dedra Van Gelder.