Welcome to
Stephanie Greene's
SLM Digital Portfolio
Hello. Welcome to my SLM Portfolio.

This portfolio is designed for the McDaniel School Library Media Program and organized according to the four AASL/NCATE Standards for Professional Preparation Programs for School Library Media Specialists .

Please click on the individual links at the left to see artifacts on specific standards. The American Association of School Librarians' Information Power identifies the four roles of a SLM.
As you go through this portfolio, please look for evidence of my role as (a) an information specialist, (b) a teacher, (c) an instructional partner, and (d) a program administrator. In addition, please note my reflection on practice, integration of standards and my personal growth.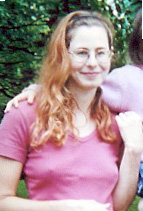 If you have any questions, please feel free to contact me at ajjss@comcast.net
last updated 7/13/04