The cats' page
Our original cats Poo and Scratchy were two-time winners of the "Cat Lottery"; Diane and I adopted each other's cats when we got married. Poo is below, looking like she owned the place, which she pretty much did. We lost her on November 17, 2007 at the ripe old age of 19. Poo was in all likelihood the world's friendliest and happiest cat. She was beloved by all, especially by Diane and me; Poo was the only living thing we've ever known or heard of that achieved universal popularity. Poo is also one of the most famous and best-remembered dead cats ever, having been the subject of a lay homily at our church, and snuck onto the memorials list at Christmas, Easter, and All Saints Day. She has also had candles lit for her in churches in Ireland, England, Romania, Bulgaria, and elsewhere. We love her and miss her so very, very much. Godspeed, kitty.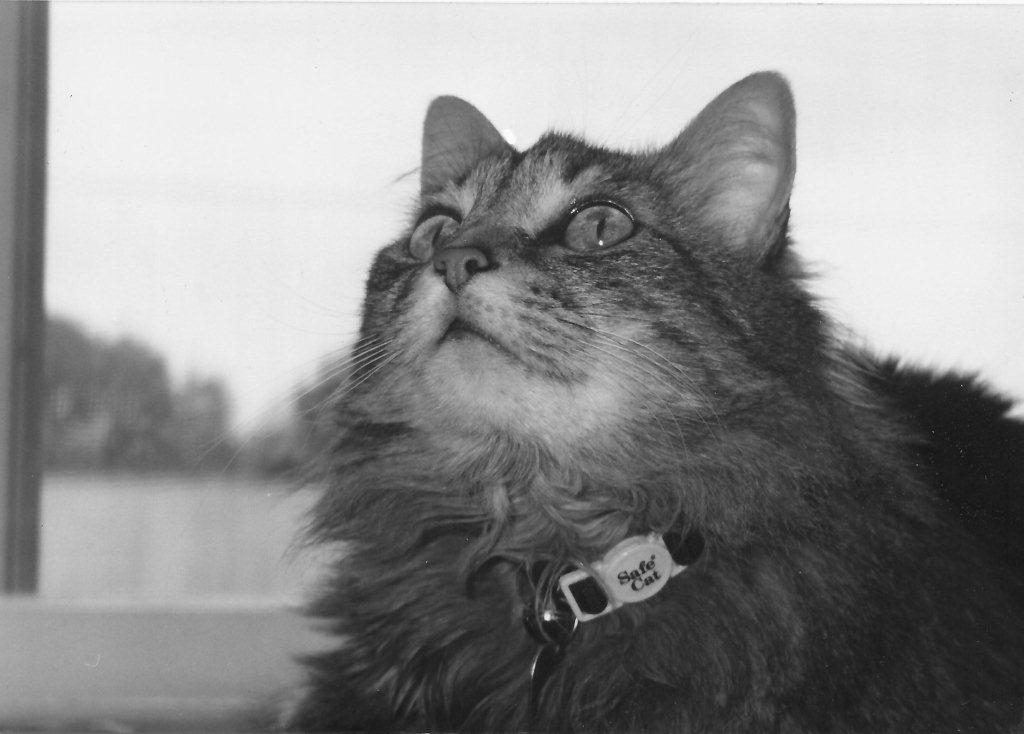 Fans of "The Simpsons" will understand our Scratchy's admittedly-morbid name. Unlike her much-abused namesake, however, our Scratchy has a good life...lots of naps and plenty of (sometimes forced) affection. (And even after that she's pretty darn grouchy and has earned a lifetime ban from Northwest Airlines; Scratchy did get her ultimate revenge, though, as the NWA brand no longer exists. Bastards.) For some inexplicable reason, Scratchy really liked our kid Adelaide and has demonstrated a Job-like patience for her nonsense. Scratchy passed on May 8, 2015 at the age of 17. I think about her every day. She'll always be my Mistress of Darkness.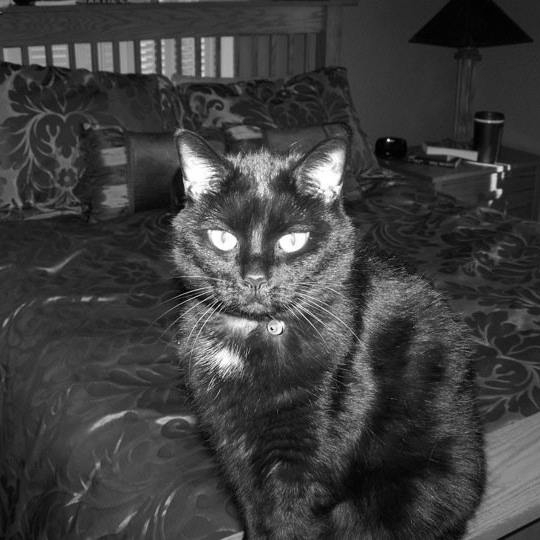 Sisters Bazooka (left) and Miss Chloe (right) were adopted from the Carroll Co. Humane Society in June 2008. A more fitting name for Bazooka does not exist, and no roll of toilet paper is safe if she is around. Chloe enjoys watching TV--- especially shows with crawlers---and climbing into the clothes hamper.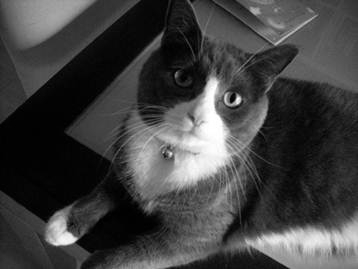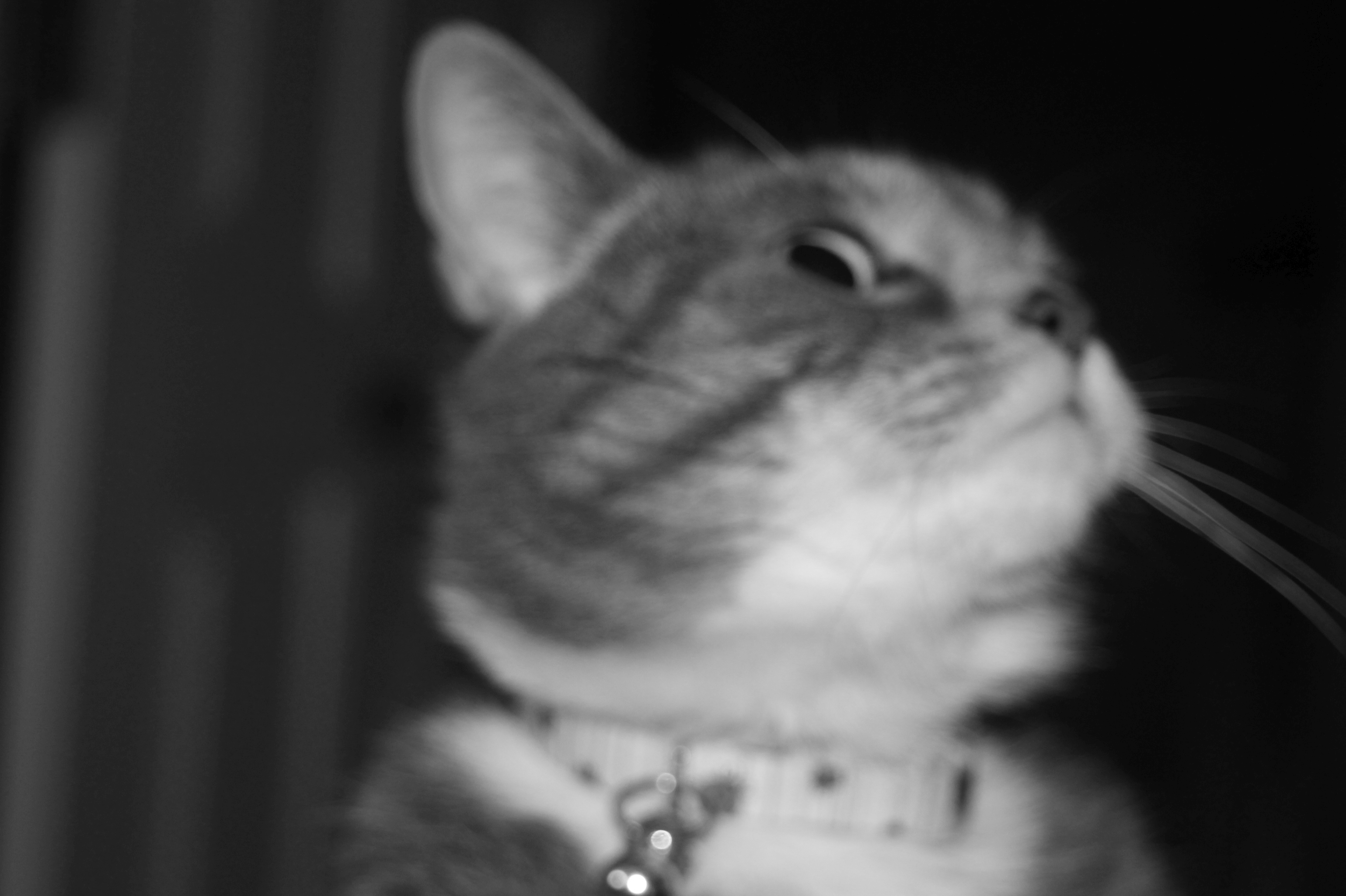 George joined us in September 2010 via a series of events that can only be described as providence. George is blind, but for all intents and purposes acts like a regular cat. In addition to being extremely outgoing and friendly, George is a mighty hunter, routinely bringing us presents of socks he catches in our laundry basket.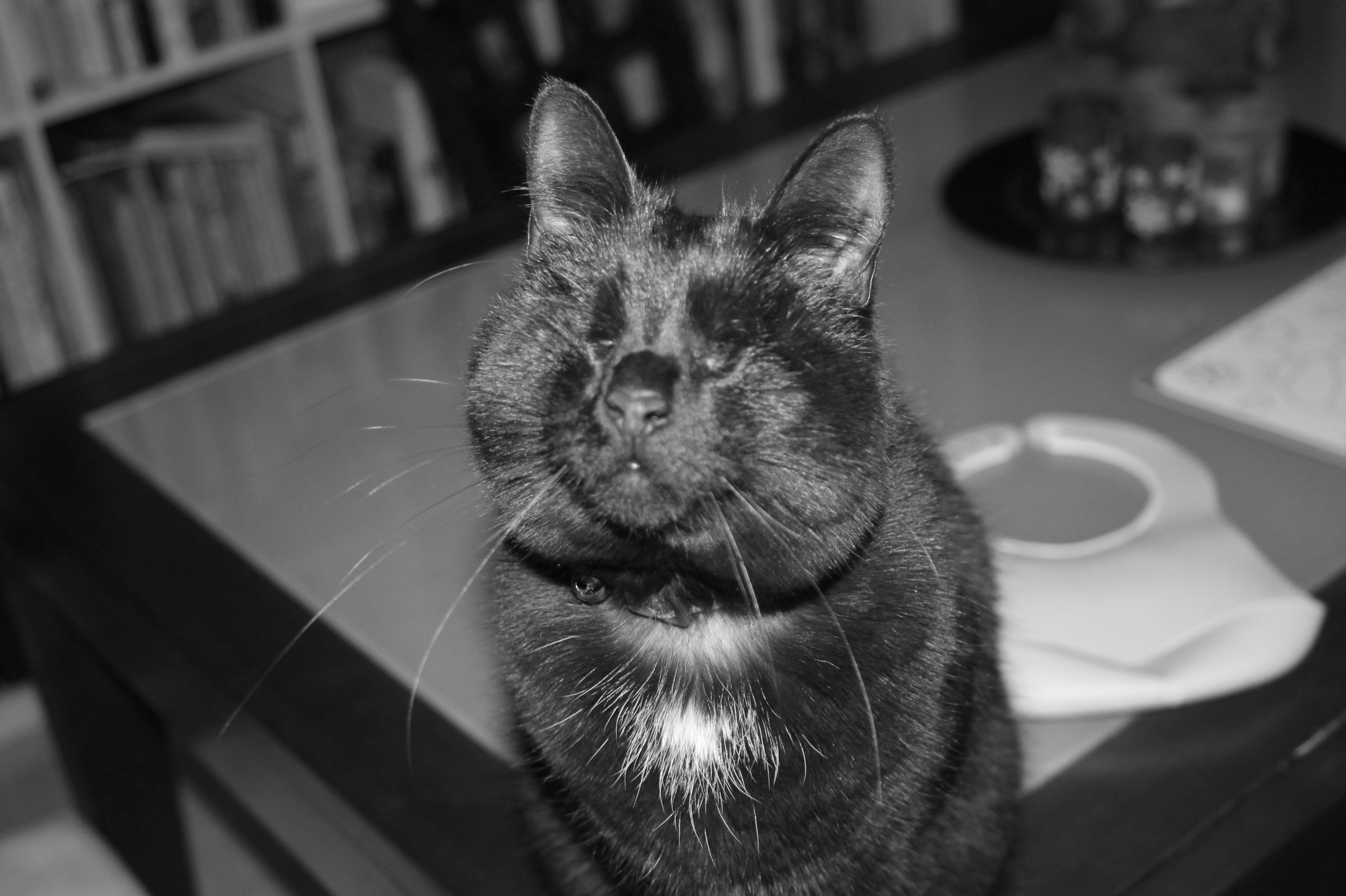 We adopted Thumper in the fall of 2011. Thumper had been dropped off at our vet clinic after being struck by a car, an accident which ultimately resulted in the loss of his right foreleg. Thumper made a full recovery, although we think he might have some residual brain damage because he is a hyperactive nut.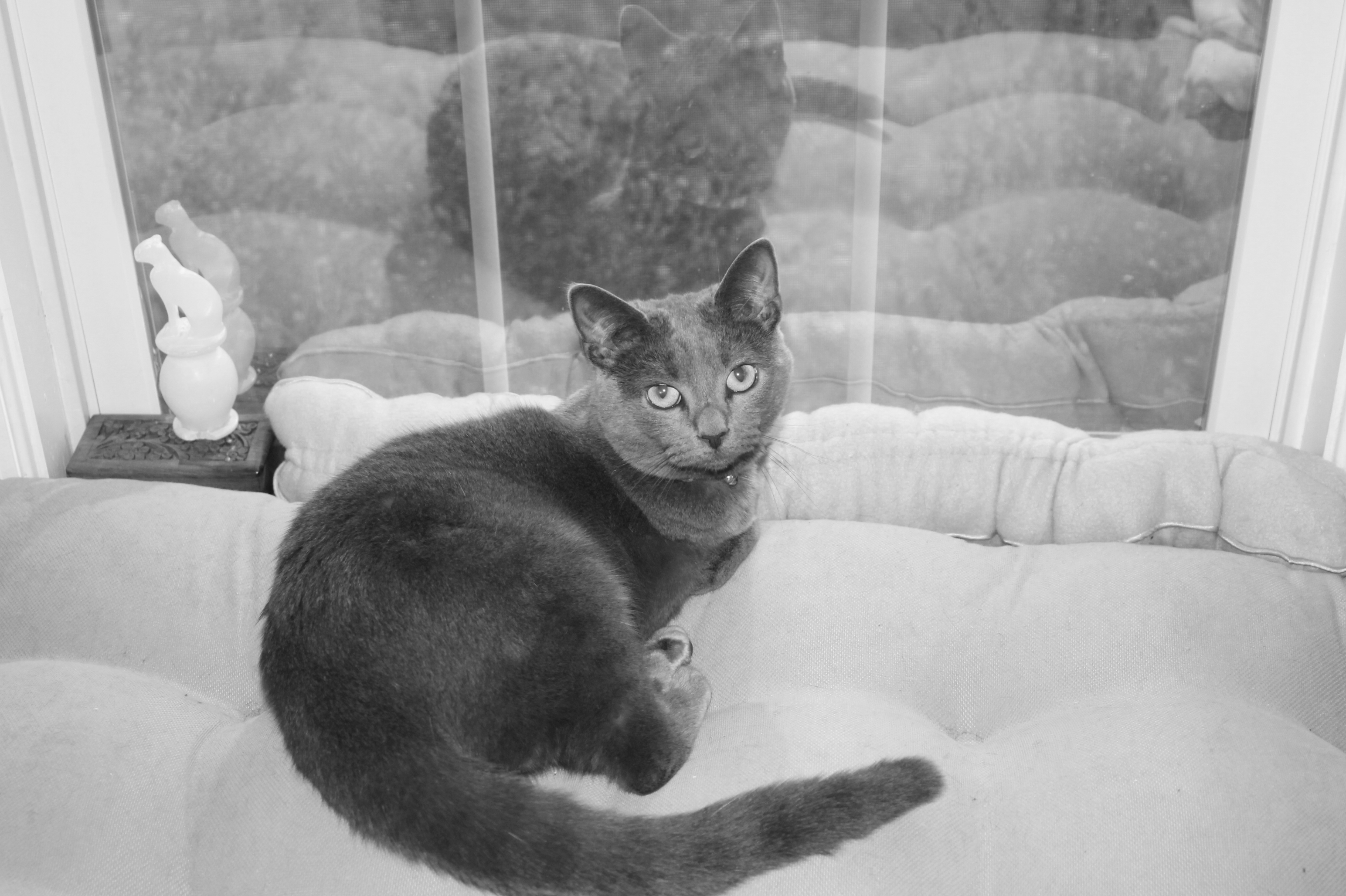 We are officially crazy cat people. Below is Panda Bear, who joined us in August 2012. Like George, Panda Bear is blind. In spite of that, Panda Bear is the naughtiest cat ever. In addition to being the silly meathead cat we seem to attract, Panda Bear is also very mouthy.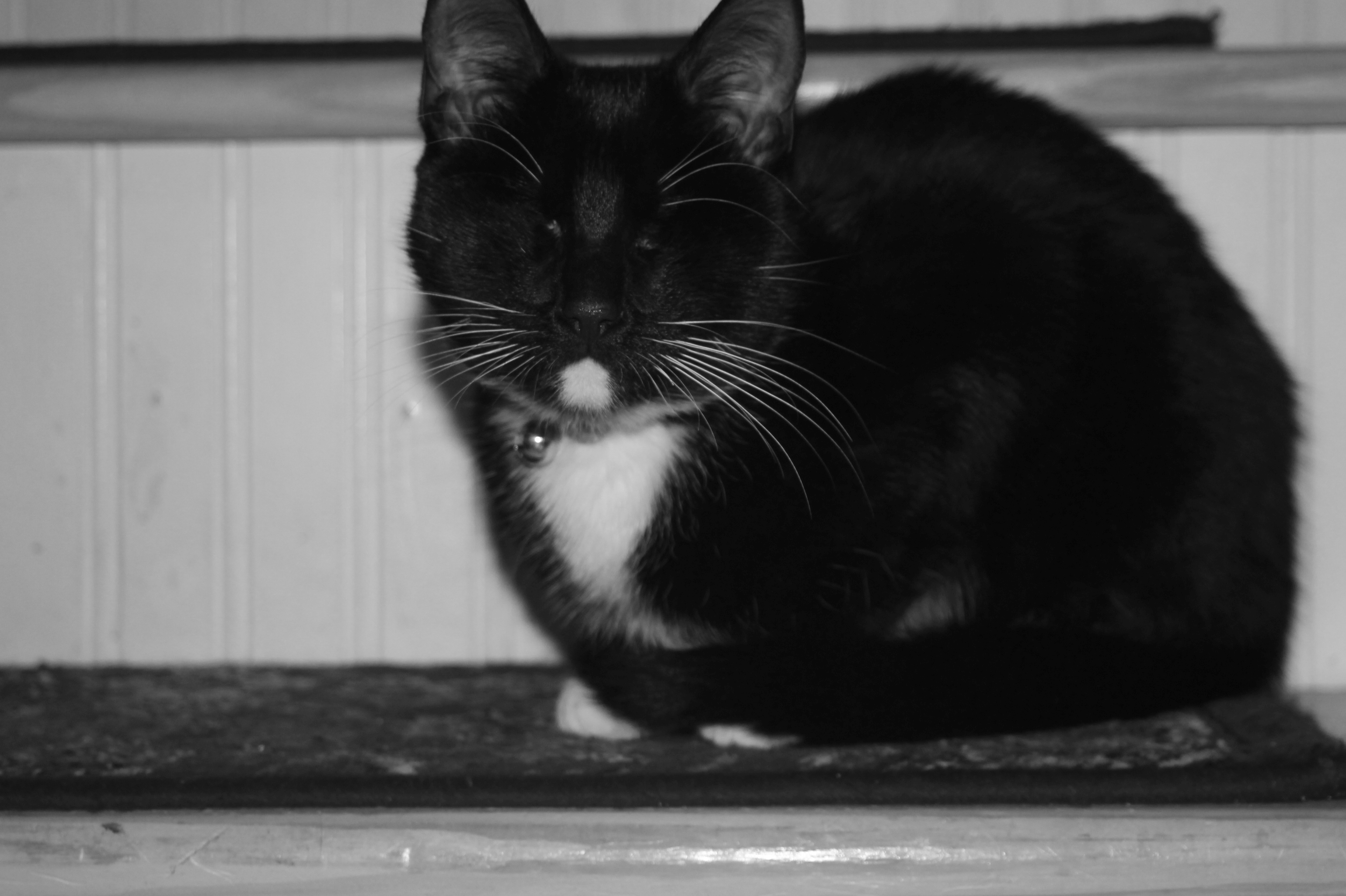 And lastly there is Daisy, who came home with us, minus a foreleg, right before the Mid-Atlantic blizzard of 2016. Daisy is an awfully nice, albeit sassy cat and, unusually for us, has no major personally quirks. (She has plenty of minor personality quirks, however. Look at her face; she's all eyes!) Even though she is fully adapted to her tripod status, she still tends to tip over when scratching herself.